A first time home buyer must look at these top 10 properties in Pune
September 30, 2019 .
Real-Estate Industry .
10 min read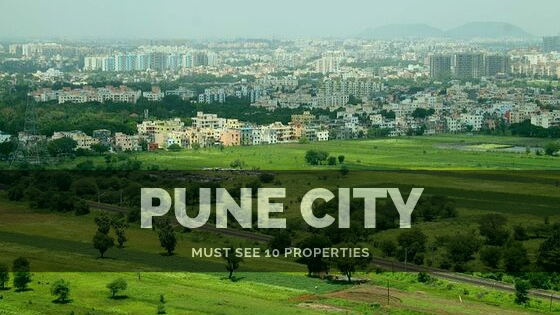 Pune is the eighth largest metropolitan city in India. The real estate market in this urban city is growing positively. With the developing infrastructure, more offices and employers pouring into the city, a wide range of healthcare facilities and civic amenities in almost all neighborhoods of every locality are factors that have strongly affected the growth of the city of Pune. Enjoy all things that urban life offers, along with a bit of tranquillity unlike the fast-paced cities like Mumbai or Bangalore. A first time home buyer who is looking to invest in property should definitely look at Pune now because of it's growing potential. The upcoming metro is a great addition to this city which is already connected through a bus system and local auto rickshaws and cabs. Here are a few upcoming properties that are tempting for the first time home buyer.
Hinjewadi
A prime commercial center of Pune, 'Hinjewadi' is located in the neighborhood of the 500- acre 500-acre Rajiv Gandhi Infotech Park. This is home to many of the country's IT companies along with other multinationals. It offers an option of residential projects making it a location most sort out to live and work in. Hinjewadi is connected to other places in Pune through the road system. The Pune metro will, however, shorten the distance in through Line-3 in a few years.
Average price: 5700 per sqft
Properties to look at –
The Kohinoor Tinsel County
Located in phase 3 of Hinjewadi, this complex comprises of 6 towers with 12 floors each. The flats range from 1-2 BHK. the vicinity boasts of good schools and some of the country's finest employers.
Kolte Patil Life Republic
A major builder in the city of Pune this residential complex offers a first time home buyer ranges of flats from 1 BHK to an entire villa. With 7 towers, and phase 1 having been completed in 2015 and the second phase underway, this project is registered under the RERA Act.
Kharadi
Kharadi is an established real estate market in the eastern suburbs of Pune. The locality houses the famous MIDC Knowledge Park. This neighborhood has grown to accommodate some prime properties especially for the first time homebuyer that is looking for suburban premium and luxury apartments. Kharadi has located 10 km from the Pune International Airport and is well-connected to the rest of the city through the strong road network.
Average price: 7080 per sqft
Properties to look at –
Majestique Landmark- Oasis
With phase one under construction to be completed in 2022, this is a great property to invest in if you have a little time on your hands. With 6 towers of 2BHK and 3 BHK apartments, it will be a great complex to reside in.
Duville Riverdale Heights
A RERA registered project, this complex has apartments that range from a 1 BHK to 4 BHK. With 5 towers of 22 floors each, the now under construction project is set to be completed in 2021.
Wagholi
Wagholi was previously known as an industrial hub but now has developed into a prime residential locality. Close to Hadapsar and Kharadi, it is connected will by the four-lane highway that links Pune and Ahmednagar. The locality though still under development will soon prove to be a promising residential hotspot, especially for first time home buyers and millennials.
Average Price: 5200 per sqft
Properties to look at –
Marvel Ganga Fria Phase 1
This is a ready-to-move-in project in the locality. With homes ranging a two-bedroom hall kitchen to 3, it has two towers and 13 floors each. Though not a large complex, the developers also have a phase 2 to be completed at the end of 2020.
Sancheti Mount Castle
Also being built in two phases which are expected to be completed in 2020 and 2022, this is a great option for young families. The amenities offered by the builders include an amphitheater, a play area, and a pool.
Baner
Baner in Pune which is located parallel to the Mumbai-Bangalore Expressway is very close to Hinjewadi IT hub, Pune City, Aundh and Mumbai. With Planned infrastructure, the area has witnessed a rise in property investments, prices.
Average price: 11030 per sqft
Mandarin 33 west avenue
An under-construction project with 2 towers of 13 floors each, this complex is expected to be completed in 2023. Flats range from a 2 BHK to 4 BHK. With a great location, the prices may seem a little high for first-time investors but it is a great investment option.
Park Grandeur
This is another under construction project that first-time buyers must look into. Spread over 5 acres of land, the complex is promising and located in a good neighborhood.
Hadapsar
Hadapsar is another prominent property investment option for the first time home buyer. Located in the eastern suburbs in Pune it offers the property at premium prices because of the wide-scale development in and around the neighborhood. Surrounded by special economic zones, like Magarpatta City, the Amanora Parktown and the Fursungi IT Park (SP Infocity), this fast-growing residential area also houses the offices of prominent IT companies in Pune. With good road connectivity, the Pune metro is said to add to the further development of the neighborhood.
Average Price: 7094 per sqft
Kumar Propera
A RERA registered project, this project will be completed in 2022. The complex is made up of 2 towers with 19 floors each. Located near malls and schools, it has a great location.
Leisure Town
This mega project of 18 towers with 12 floors each, is a RERA registered project. It stretches over 22 acres of land. Phase 2 is ready to move in while phase 3 is still under construction with phase 1 yet to start.
So if you are getting ready to buy your first home, let us help you with your down payment. For more details, click this link.
Subscribe to Blog via Email